My colleague Herb Greenberg came from a modest background...
The son of a furniture salesman and a social worker, he didn't grow up surrounded by wealth.
"To be completely honest, I had zero knowledge of the stock market other than the Dow Chemical stock I inherited from my grandfather," Herb once admitted.
In fact, he kind of fell into the world of finance by accident in one of the more serendipitous moments of his career... one that led him along a path where he has been fortunate enough to help both institutional and retail investors make – and avoid losing – large sums of money.

The way Herb tells it, his father was a Depression-era 'casualty' forced to drop out of college to help his family...
His family wasn't wealthy, and he wasn't raised around investing or stocks. But in the 1980s, Herb's dad took a liking to a hamburger chain called Fuddruckers.
He had read something positive about the company, so he bought some stock. He didn't want to miss out on the next big thing.
But as Herb explains, things quickly fell apart...
It was a disaster. While he didn't lose a ton of money by dollar standards... it was a huge loss for him and my mom. They were heading into retirement and were on a fixed income, so they were excited about the prospect of some extra cash.

My father never thought about buying another stock until years later, when banks started employing their own brokers.

And when I heard that "the man at the bank" told him what he should do with his investments and sold him on a bond mutual fund, I was at a loss for words.

The man at the bank? I was horrified, disgusted, and angry.

The story lit a fire under Herb...
It made him want to go after the "bad guys" and help regular, everyday investors like his father avoid getting swindled.
Herb went on to become one of the best-known investigative stock journalists in Wall Street history.
For years, he was a senior stock commentator for CNBC, debating stocks opposite TV personality Jim Cramer. If you ever watched the two of them together, you'll probably recall that things sometimes got heated...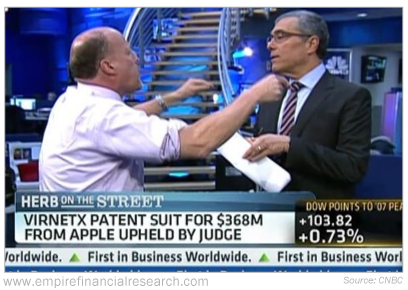 Herb's resume also includes stints with the Wall Street Journal, Fortune, MarketWatch, TheStreet.com, and the Chicago Tribune.
Later, he spent a decade at the San Francisco Chronicle, where his columns were mailed weekly to investing legend Warren Buffett.

Herb's exposés have landed CEOs in jail and even earned him death threats...
"I've made it my mission to expose the WORST stocks, though it's often made me worry for my own safety," he once told me.
In fact, one stockbroker "very kindly suggested that I look under my car next time I got in it," Herb says. "Years later, he also threatened the finance minister of Canada. I was called in as a key witness and... well, he went to prison."
Back in the 1990s, a company called MediaVision was a hot tech IPO. The company made sound cards for computers. And Herb noticed the CEO was overly aggressive, doing whatever it took to push shares higher... including booking revenue on products the company hadn't even made yet.
Thanks to some disgruntled former employees, Herb discovered the company had falsified revenues by counting sales of products that were sitting on a boat in China.

But even that wasn't enough evidence for Herb...
Always the skeptic, Herb thought the CEO was trying to set him up to publish a story full of misinformation, perhaps luring him into committing libel and earning him a lawsuit.
Herb met with other employees, piecing together receipts and documents from as many sources as he could...
I remember one specific interview with one guy... and I worried, "Can I trust him? What if he shows up to my office with a gun?"

So I arranged to meet with him in this big glass room in the lobby of the San Francisco Chronicle... just outside of the newsroom... and I made a point of letting all my colleagues know who I was meeting with – JUST in case something happened to me.

But it worked out, because once I had the receipts and invoices, I was able to piece together dozens of line items... matching up parts that were supposed to be at a third-party manufacturer but instead were still enroute from China. And I determined the company was, in fact, booking revenues on products that hadn't yet been assembled.
After Herb's story dropped, the CEO and CFO both landed in prison.

I'm sharing this story because today, Herb is unveiling his latest bombshell – something he would've loved to have written when he was a journalist...
In short, it's a brand-new story about a series of "blackouts" set to hit 235 U.S. cities...
This has nothing to do with a grid failure or a series of power outages. As Herb warns, it's far more serious... And whether you're in the market or on the sidelines, it could spell disaster for your money. However, at the same time, Herb has also found a way you can bag 100% to 800% gains as the situation plays out.
This story is so big that my colleague Jared Kelly just flew across the country to sit down on camera with Herb to hear the details. Don't be caught unprepared... Click here to watch this special presentation.
Regards,
Sam Latter
January 25, 2023