1) Near the end of my interview with Julia La Roche last week (which I covered in Friday's e-mail), I said I'm fairly bullish and, forced to guess, think the market might rise 15% to 20% this year.
One of the many reasons for my optimism is that I think the Fed will stop raising interest rates – mainly because inflation is coming down, but also because higher rates will be very costly for the federal government, as this tweet shows: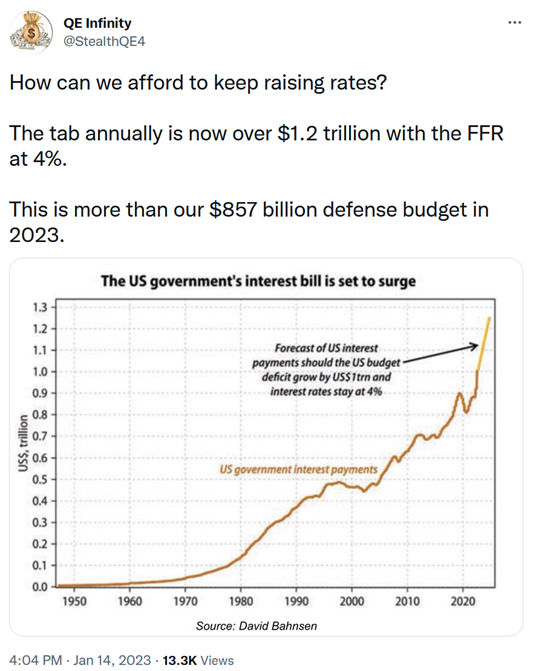 2) Breaking news yesterday: Activist Investor Ryan Cohen Takes Stake in Alibaba and Pushes for More Stock Buybacks. Excerpt:
Activist investor Ryan Cohen has built a stake in Alibaba worth hundreds of millions of dollars and is privately pushing the Chinese e-commerce giant to accelerate and further boost its share repurchase program, according to people familiar with the matter.

Mr. Cohen, known as the meme-stock king for helping ignite explosive rallies in GameStop and others, built the stake in the second half of last year, the people said.

While the stake is small in comparison to Alibaba's market capitalization of nearly $300 billion, Mr. Cohen has a wide following among individual investors who often follow his lead.

Mr. Cohen, with a net worth of over $2.5 billion and a portfolio of stocks including Apple as well as Wells Fargo and Citigroup, first contacted Alibaba's board in August to express his view that the company's shares are deeply undervalued based on his belief that it can achieve double-digit sales and nearly 20% free-cash-flow growth over the next five years, the people said.

Alibaba's shares have climbed about 67% from a multiyear low in October, with its ADRs closing at $117.01 on Friday, but are still down from a high of over $300 reached in late 2020 as technology and other shares rallied in the early days of the pandemic.
Cohen may be right that Alibaba (BABA) is cheap – I have no opinion on the stock, but remain highly skeptical of investing in anything in China for reasons I've detailed in prior e-mails – but anyone investing because of him should recall his sleazy pump-and-dump scheme with Bed Bath & Beyond (BBBY) shares last fall, which I covered in my September 21 e-mail:
I'm quoted in this New York Magazine article about Ryan Cohen's pump and dump of Bed Bath & Beyond's stock: Beware Ryan Cohen, the Meme-Stock King. Excerpt:

It's hard to allege Cohen committed a securities violation on the basis of simply making accurate regulatory disclosures and legally selling stock on the open market – which has made many on Wall Street all the more upset. "The way he did it reeks of a pump and dump, just reeks of it," says Whitney Tilson, the CEO of Empire Financial Research, who filed a complaint with the SEC alleging Cohen engaged in securities manipulation through a pump-and-dump scheme. "This has been going on for forever – Ryan Cohen just came up with a clever, innovative, nefarious twist."

In the days following Cohen's sale, however, the true extent of Bed Bath & Beyond's woes became clear. "I think it's highly problematic for Ryan Cohen to place individuals on the board, dump all of his shares, and then the next day we learn that Bed Bath & Beyond has hired restructuring experts and now they're engaged in some financial difficulties," says Daniel Taylor, a Wharton professor who specializes in fraud...

The more respectable players in the market have turned on Cohen. "He has absolutely destroyed his reputation," says Tilson...

He's convinced throngs of retail traders he's a genius even while he's betrayed them, leaving them holding the bag of a worthless stock. As long as people like Cohen and Musk are able to do that, then there's no telling what they can do to the market or who can stop them, besides the apes themselves.
3) Speaking of con men engineering pump-and-dump schemes on gullible retail investors, I've been warning my readers about self-proclaimed "next Warren Buffett" Chamath Palihapitiya since February 24 last year, when I wrote:
My observation over the past two decades is that anytime a "new economy" guru compares himself to – while also trash talking – the Oracle of Omaha, the market soon punishes his hubris! The King of SPACs Wants You to Know He's the Next Warren Buffett.
This New York Times article last month exposes him as the con man that he is: The 'SPAC King' Is Over It. Excerpt:
In recent months, some of the stocks of Mr. Palihapitiya's SPACs have dropped nearly 90% from when they listed. By selling most of his shares early, he roughly doubled the $750 million he put in, mostly into the entities he backed. But many small investors who followed his advice may not fare so well.

Mr. Palihapitiya – once known as the "SPAC king" – said that he was promoting SPACs at a time when investors were embracing all kinds of risky trades, and that he wasn't responsible for the cratering stock prices of the companies he took public.

Instead, he blames the Fed's policies.

"Nobody forced anybody to invest in anything," Mr. Palihapitiya, 46, said in an October interview...

"Sponsors make a killing, and public shareholders take a bath," [Michael] Klausner said.

Even as he was pitching his newest SPACs, Mr. Palihapitiya was selling out of his older ones. In March 2021, he sold his personal stake in Virgin Galactic for roughly $200 million, according to public filings, saying he would put the proceeds into fighting climate change...
It's so ludicrous that Palihapitiya blames the Fed for the implosion of every stock he's behind:
At a conference in Manhattan in late October, he told the crowd that SPACs weren't the problem. Instead, he blamed the Fed for creating the mania around SPACs when interest rates were low and investors were hungry for returns.

"The long-term regime in which we operate has changed," Mr. Palihapitiya said. "That is not in the control of one human being except Jerome Powell," he added, referring to the Fed chairman.
Palihapitiya reminds me of ARK Invest's Cathie Wood, whose main fund, the ARK Innovation Fund (ARKK), recently hit a five-and-a-half-year low a few weeks ago.
However, Palihapitiya is worse in my book because I think he knows he's lying when he pumps worthless stocks, whereas Wood actually appears to believe the nonsense that she's spewing, such as her recent prediction that bitcoin is going to $1 million.
4) As you've no doubt gathered by now, I can't recommend a trip to Antarctica highly enough. Here's a picture of my family and our friends, just before we boarded our ship, the Plancius, run by a Dutch company called Oceanwide Expeditions: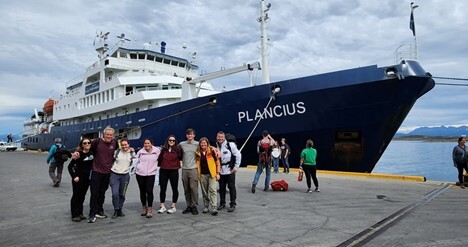 In the interest of full disclosure, however, there are a few things to consider before booking a trip to the bottom of the world:
Seasickness
Weather
Travel time
Internet access
Desired activity level
Ship size and amenities
Cost
I discuss each of these in depth in my recent Facebook post here. Here's the full text of what I posted about the cost:
The single biggest impediment to this trip BY FAR is that it's incredibly expensive. We paid roughly $11,000 per person for the trip for a double and two triple rooms (for two families of four), although the price can go as low as $8,400 per bed in a quad room. As expensive is that is, I suspect that this is among the least expensive trips available because our ship was so spartan.

Then you have to add in the round-trip airfare to Buenos Aires and then to Ushuaia. During the peak times we flew (departing NYC Dec. 18, returning Jan. 3), we paid a jaw-dropping $3,200 for round-trip coach tickets to Buenos Aires plus another $500 to/from Ushuaia.

So, adding in two days of activities in Ushuaia before the ship departed, and let's call it $60,000 for a family of four – gulp!

However, I have good news. If you don't travel during the peak Christmas/New Year's period, the airfares right now in late January and February are $1,200 to $1,800 for nonstop roundtrip flights from NYC to Buenos Aires (and only $900-$1,000 for a one-stop itinerary), and $300 to/from Ushuaia – about half what we paid.

More importantly, you can also pay half what we paid for the trip if you're willing to go standby. Here's how...

During the peak season (roughly November through March), I'd guess that 2-3 ships depart Ushuaia each day for Antarctica, totaling roughly 400 to 500 beds (this is consistent with the estimate that roughly 60,000 to 70,000 people visit Antarctica each year).

From what I heard, there are almost always at least a few empty beds on each ship due to it not selling out or a last-minute cancellation or no-show. Even on our small ship, which has a maximum capacity of only 110 people, there were two empty beds – one in a double room and one in a triple.

The cost to a ship operator of adding one or two additional people at the last minute is basically zero, so it makes financial sense for them to offer steep discounts to anyone who's willing to travel standby and board at the last minute.

To find a great deal, I suggest showing up in Ushuaia, visiting the many travel agencies along the waterfront, telling them what you're looking for, and giving them your cell phone number/WhatsApp. I don't think you'll have to wait more than a day or two to get one or more great offers. (A blog post I read suggested searching online for local travel agencies, contacting them in advance, giving them your dates, and seeing what they offer, though I doubt this will yield the best deals, which only appear hours before a ship departs when confirmed passengers fail to show up.)

One woman I met on the Plancius, who was solo traveling around the world, said she heard that a bed on the Plancius (which she'd booked in advance) was $5,000 instead of the advance price of $10,000. I met a guy at the airport who said his friend had just boarded another ship with a similar discount.

So this is a great option for people with flexibility around dates and which ship/tour they go on, don't mind bargaining, and are traveling by themselves or one other person (it's a riskier option for, say, a family/group of four, because they might have to wait longer for a ship that can accommodate them (and might have to be in separate rooms), and are less likely to be able to get on a small ship).

If you book this trip in advance, I'm not sure if it makes sense to book it directly with Oceanwide Expeditions – here's their website – or use a travel agent. My sister originally booked this trip pre-COVID using a UK-based agency, Swoop Adventures, which took good care of us. Here's their website, their toll-free number is (855) 369-7866, and the two agents who helped us were Hannah Green ([email protected]) and Sarah Orson ([email protected]). This is the specific trip we took (there are many to choose from): Antarctica Basecamp Voyage.
Best regards,
Whitney
P.S. I welcome your feedback at [email protected].