Editor's note: With one of the worst years in recent history finally in the rearview mirror, it's time to look ahead to what 2023 will bring. Today, we're sharing more insight from trading expert Greg Diamond, who explains why he's focusing on one asset class in particular this year...
---

It's a new year, and that means a fresh start for everyone – especially investors...
My Ten Stock Trader subscribers had a successful 2022, but we must now forget about it.
Remember, success is not final, and failure is not fatal.
This means 2022 is now meaningless. We have to focus on 2023 and our new 12-month trading window. That's what matters right now.
And 2023 will present incredible trading opportunities, based on the various cycles I've discussed. These will obviously include the stock market... But we'll also see opportunities in both bonds and precious metals.

Today, I want to focus on the precious metals sector – and cover why it should mean good opportunities for traders this year...
Back in October, I told my subscribers that, as long as the October 13 low held in certain stocks, we would likely see major price divergence into early 2023. That, in turn, would set up a big inflection point. (In that scenario, some stocks would make new lows, while others would not.)
Well, here we are.
In that October update, I also explained that certain technology stocks would likely make new lows... Construction equipment giant Caterpillar (CAT) and bank-related stocks, like JPMorgan Chase (JPM), were likely to hold those October 13 lows rather than make new lows.

Over the past few weeks, I've found that precious metals have started to diverge as well...
The chart below shows the relationship between gold (in black) and the Nasdaq 100 Index (in blue). The Nasdaq 100 holds the top 100 tech stocks. Take a look...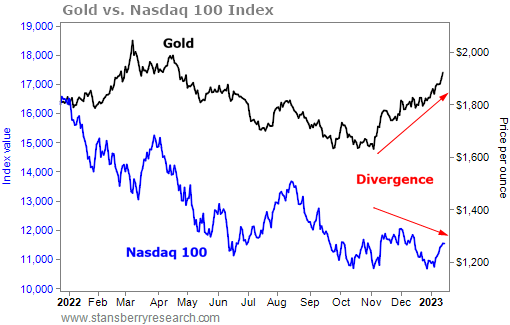 You can see the price divergence between gold and the Nasdaq 100 in early 2022. Russia's invasion of Ukraine took markets by surprise in that period, causing investors to pile into gold as a hedge against volatility.
But ultimately – as this chart implies – high inflation rates and a stronger U.S. dollar pushed stocks and precious metals into a tight correlation through late last year.
Then, that changed...
Note the two red arrows above, which mark recent divergence. The Nasdaq 100 is trending lower while gold is showing signs of strength.

OK, so what does this mean?
From a technical analysis perspective, it means we're seeing price divergence across asset classes (not just sectors within the stock market) that once traded in a tight correlation.
The price divergence between gold and the Nasdaq 100, combined with the divergence between other major market sectors, strengthens my conviction that 2023 is setting up for major inflection points. And as traders, we'll want to act on them.
Now, it's important to highlight that price divergence takes time to develop. And the key to acting on these setups is understanding the "when" – as in when to trade.

Right now, patience is key...
I'm certain we'll see more volatility in January and the coming months. In the meantime, I've highlighted the precious metals sector for two reasons...
It bolsters evidence of price divergence and a tradable inflection point across both stocks and precious metals.
When precious metals start trending in that manner, it signals incredible trading opportunities. As longtime Ten Stock Trader subscribers know, our two best trades have come from this sector.
I'm looking for similar trading victories in 2023.
Regards,
Greg Diamond
January 19, 2023
---
Editor's note: Greg nailed the market crash of 2022... And yet, his readers still pocketed six 100%-plus winners. Now, he's back with a new warning... and with a strategy to help you profit from this rare market event. Get the details here before his presentation goes offline.